Adrian Belew is a multi-instrumentalist, singer, songwriter, producer and guitar guru. Belew has released 20 critically acclaimed solo records and was the frontman, singer, co-writer and guitarist for progressive rock powerhouse King Crimson for 30 years. He also played alongside musicians such as David Bowie, Frank Zappa, Paul Simon, Nine Inch Nails, Tom Tom Club and Talking Heads. Known for his inventive guitar sounds, Belew has begun mixing his unique sound, complex time signatures, witty lyrics, wild sound and technical mastery into his newest app creations, FLUX:FX and FLUX by belew.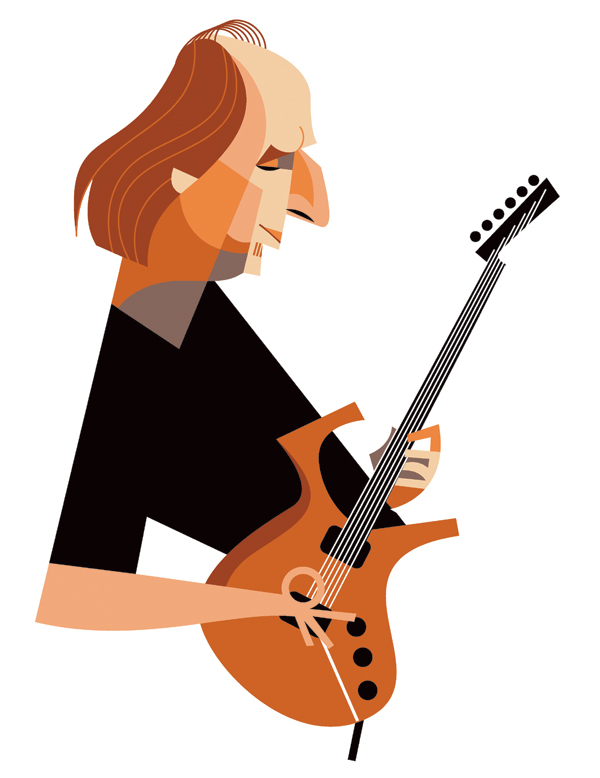 1970
Adrian is discovered by Frank Zappa while playing in a cover band named Sweetheart at the infamous Fanny's in Nashville. Zappa got Adrian's name from his chauffeur, invited Adrian to
1979
Adrian later tours with Talking Heads. While touring with Bowie, Adrian met Talking Heads and performs on "Remain In Light' and '…The Name of this Band Is…".
1980
Adrian to join the soon-to-be-reformed King Crimson. First day touring with Talking Heads, Adrian meets Robert Fripp who asks Adrian to join the soon-to-be-reformed King Crimson.
1981
Adrian Belew joins King Crimson Adrian records as Tom Tom Club with Talking Heads' Chris Frantz and Tina Weymouth. He also co-writes their hit "Genius of Love" which appears on
1982
Adrian releases his debut solo record Adrian signs with Island Records and releases his debut solo record, Lone Rhino, featuring Big Electric Cat.
1983
Adrian releases his second solo LP Adrian releases his second solo LP, Twang Bar King and earns his famous nickname. Adrian produces The Raisins debut album and appears on Laurie
1986
The Bears tour Israel and sign with PMRC (division of I.R.S. Records) Adrian releases his third solo album: Desire Caught by the Tail.
1989
Adrian releases Mr. Music Head on Atlantic Records Adrian releases Mr. Music Head on Atlantic Records and follows the release by hosting PostModern MTV for an entire week. Adrian performs
1990
Adrian tours with David Bowie Adrian tours as musical director and band leader with David Bowie along with Erdal Kizilcay, Rick Fox and Mike Hodges. Adrian appeared on David Bowie's
1991
Desire of the Rhino King, a long-awaited compilation of selected songs from Adrian's first three solo albums, is released Adrian's "Still Life with Dobro" appears on Guitar Speak III.
1992
Adrian releases his sixth solo album Inner REvolution Adrian tours for Inner Revolution with Rob Fetters, Brian Lovely and Mike Hodges. Adrian receives a shout out on the The Simpson's.
1995
King Crimson returns King Crimson releases the albums Vrooom and Thrak. King Crimson performs "Dinosaur" on NBC's Late Night with Conan O'Brien.
1996
King Crimson tours Europe and North America Adrian releases his eighth solo album, Op Zop Too Wah, on Passenger/Caroline Records. Adrian's rendition of Paul McCartney's "Come and Get It" appears
1997
Adrian appears on the cover of EQ Magazine Adrian reforms The Denems at his high school reunion. The Bears begin recording after a decade-long hiatus. Adrian begins an acoustic tour
1998
Two tours U.S., Japan, UK and Canada Adrian Belew releases 10th solo release Belewprints. Adrian produced the Irresponsibles. Adrian produces "Mean Low Water" with Artie Traum, Tony Levin and Fred
1999
Thirsty Ear Records releases Salad Days; a compilation of acoustic tracks Adrian tours US promoting Coming Attractions; Irresponsibles opens. Nine Inch Nails releases Fragile; Adrian's second appearance on their release.
2000
King Crimson releases Construktion of Light touring Europe and Japan
2001
Adrian receives the Camm (Cincinnati's Entertainment Award) Lifetime Achievement Award, presented by Peter Frampton Adrian performed on Tori Amos' Strange Little Girls. Adrian hits the road with King Crimson for
2002
The Bears' Car Caught Fire tour begins Adrian releases "Asleep", a song inspired 9/11/01. King Crimson releases EP Happy With What You Have To Be Happy With prior to new
2003
Recording begins for Adrian's next solo album, which includes Les Claypool (primus) and Danny Carey (Tool) King Crimson tours the US in support of The Power to Believe. King Crimson
2004
The Bears release The Bears Live at CLub Cafe DVD Adrian lends his guitar work to Porcupine Tree Recording, Deadwing. Adrian's "Man In the Moon" makes "Top 10 Songs for
2005
Adrian releases Side One and Side Two Adrian tours to promote Side One and Side Two. Adrian receives a letter of thanks from a Louisiana fan after Hurricane Katrina. Adrian is
2006
Adrian performs with Paul Green's School of Rock and meets the two to his Adrian Belew Power Trio: Julie and Eric Slick. Adrian tours U.S., Australia and Italy and announces
2007
Adrian releases particles of DUST Power Trio hits the road. The Bears record Eureka! Adrian opens for Umphrey's McGee and is featured guitar guest.
2008
Power Trio embark on a tour across the West Coast, Canada and Europe
2009
Power Trio tour continues. Adrian and Michael Clay release A Cup of Coffee and a Slice of Time.
2010
Adrian begins Painting with Guitar tour with Power Trio
2012
Adrian embarked on a tour with Crimson ProjeKCt
2013
Adrian rejoins Nine Inch Nails for Hesitation Marks. Adrian performs with Crimson ProjeKCt in Japan.
2014
Adrian tours with Power Trio Adrian releases his anticipated FLUX by belew: never the same twice music app. Adrian and Mobgen release FLUX:FX an audio manipulation app.
2015
FLUX:FX wins award FLUX by belew wins award