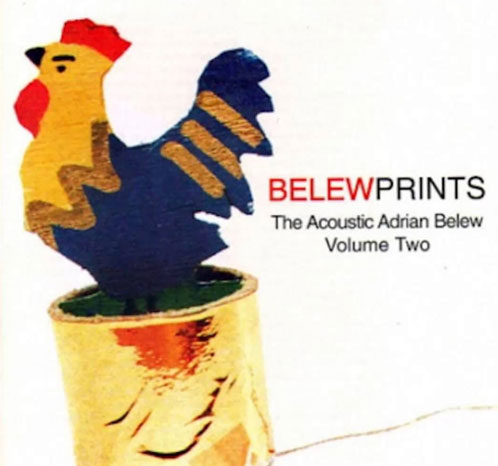 belew prints: the acoustic adrian belew vol. 2
release date: 1998
Men in Helicopters" (Belew) – 3:09
"Cage" (King Crimson) – 2:25
"I Remember How to Forget" (Belew) – 3:36
"Young Lions" (Belew) – 3:07
"Never Enough" (Belew) – 3:31
"Things You Hit with a Stick" (Belew) – 2:05
"Everything" (Belew) – 2:56
"Big Blue Sun" (Belew) – 2:58
"Bad Days" (Belew) – 2:58
"One of those Days" (Belew) – 3:01
"Return of the Chicken" (Belew) – 1:36
"Dinosaur" (King Crimson) – 5:44
"1967" (Belew) – 5:36
"Free as a Bird" (John Lennon) (Live at the Longacre Theater, NYC) – 3:19
"Nude Wrestling with a Christmas Tree" (Belew) – 2:08
trivia points
as opposed to the first volume which featured strictly guitar and voice only, this one contains acoustic "band arrangements" with guitar, vocals, string bass, piano, acoustic drums, percussion, and a lovely string quartet. there are 4 piano-based songs: Bad Days, One Of Those Days, Big Blue Sun, and Everything and 3 pieces of "musique concrete."
the front cover is a photo of a hand-made toy chicken I bought in Prague. if you rub the string with a piece of rosin it can sound like a chicken squawking. I spent an entire afternoon in the beautiful Old Town Square in prague watching an old man in a crumpled suit selling these toy chickens. I suppose he made them himself. they came with a coca cola cap filled with rosin. he spoke no english but would patiently demonstrate to people how to make the sound. none of them could do it. finally I walked over to give it a try. he showed me how and I made the chicken squawk. he was shocked! he said to me, "Paganini" (the most celebrated violinist of his time).
the back cover is my pencil drawing of the chicken (picture one).
there are two running orders, one for the japanese version and one for the us/european version. the japanese record includes Inner Revolution and Brave New World, but not Young Lions and Everything. for the us/european release it's just the opposite.
for Men In Helicopters I decided to have a real string quartet. we hired some of the top symphony players in nashville:
first violin: David Davidson
second violin: David Angell
viola: Kristin Wilkinson
cello: John Catchings
being an autodidact, the way I write a score is to spell out the parts I hear in my head to someone who knows how to write them out properly. in this case it was kirsten who helped me and as most often happens, she made some helpful suggestions as well.
at one point the string players asked me to check out the cello john catchings was playing. it looked ancient and ready to fall into pieces. it turns out it was a $1.5 million dollar cello that was on loan to the Nashville Symphony Orchestra! no wonder it sounded so great. apart from the string section in Men In Helicopters I played and sang everything.
Cage is one of two songs I wrote before joining the new 1990's King Crimson. my only instruction to the band was to think "frantic." in the Vroooom version of cage I'd say we accomplished frantic. for this new acoustic version I wanted to create a slower more intimate, groovy sound with drums played with brushes, a simpler 7/8 rhythm, string bass, and a few acoustic guitars. the arrangement differs slightly from the original as well.
my favorite way to double-track my voice is to place one voice far right, and the other far left. for this record I used that method frequently.
I rented a large string bass, which I used throughout the record, resulting in pained fingertips that made me look like a tree frog.
the second song I brought to the band was I Remember How To Forget which ultimately was not done by crimson as recounted elsewhere. it's a little easier to hear the odd time signatures the guitar plays without the drums. a lot of 2/4 4/4 5/4 and 6.
or Young Lions and Never Enough I used brushes on the drums, just like in Cage. more about the drumming will be in part 2; coming up next.
Pictures two and three shows my CD design.
the booklet notes I wrote were a daily account of the entire recording process of the record, so some of this has already been published. but for those of you who bought it as download (or lost the CD booklet) I will repeat some highlights here.
I used the drums I played on The Lone Rhino. old drums. yellowed and crusty. a Ludwig kit from before they were even called Ludwig. the logo on the drums says WFL (picture 2) which dates them somewhere between 1937 and 1955. a big booming 24" bass drum which still has a calfskin head. a snare drum that rings like a rusty garbage can. a Motown snare drum. listen to Big Blue Sun for example. I loved playing drums on this record.
speaking of percussive items, here's a list of everything I played on the musique concrete piece Things You Hit With A Stick: a single tom tom part runs throughout along with a new's year eve noise maker, a plastic straw, the bridge of the cello played with a drum stick, 3 african log drums, wind chimes, the body of the dobro played with mallets, a metal wastebasket, 3 japanese fans, egg maracas, tambourine, 2 finger cymbals, glassware from the studio kitchen, piano played on the inside with drumsticks, a manhattan lamp, sleigh bells, 3 triangles, 10 drums, and 18 cymbals. these events all happen in two minutes and six seconds.
tracks 7 through 10 are a pleasant group of 4 of my piano songs. I write differently on piano. it's hard to explain. it's more about the visual architecture of what my fingers are doing. move my thumb down one, my middle finger up two, and so on. the difficulty comes in remembering the moves. I plan to do more writing on piano on future records.
one definition of music concrete might be a string of seemingly unrelated events passing by in quick succession which do in fact have a theme. the musical version of "collage."
the second music concrete piece is titled Return Of The Chicken. it includes a five-second choir note made up of 32 tracks of my voice, piano, string bass, dobro, acoustic guitars, 2 harmonicas, a bugle, piano played on the inside with drumsticks, backwards piano, my vocal warm-up exercise (which anyone who has been backstage will recognize), 11 wooden flutes, six bowed cellos, (and a partridge in a pear tree) a track of birds in my backyard from Op Zop Too
Wah, a small set of tubular bells, saxophone, a japanese koto, the voice of a surprise guest star (david bowie), and the return of the chicken.
one morning in Woodstock, New York during the first rehearsals of the 90's King Crimson Robert Fripp excitedly showed me five chords he had written which had a tense quality to them. he said he hoped we could create out of them the crimson equivalent of I Am A Walrus. after I added a few more chord changes to accommodate the melody I had in mind, I was stumped. weeks later I was still musing over the song when crimson travel to Argentina for a month of writing, rehearsing, and live performances. during the month I continue to work on the song (and others) eventually adding a bridge which reminded me of a part of The Rite Of Spring. I noticed much of our new instrumental material, such as Vrooom and Thrak, had become epic in size; seven minutes or more in length. I felt this song had to be an epic pop song. I had written a rubato piece meant to be played by a string trio. when I added the rubato piece to the middle of the song, Dinosaur was complete.
I recorded the single guitar version of Dinosaur in one take; a gift.
the song 1967 began as five separate songs. since they were all in a D# open tuning on the dobro, whenever I worked on writing them I played them all, one after the other. eventually it occurred to me to use the best bits from each of the five songs together as one song with a brief reprise at the end to tie them together thematically.
the big event of november 1995 was the release of a new Beatles song. though the song's release was guarded in secrecy I had several months earlier been given a bootleg of the demo tape of John Lennon singing Free As A Bird alone at the piano. I learned john's version before embarking on the fall King Crimson tour of the US. with my arsenal of electric midi guitar I had the ability to emulate a reasonable piano sound played on the guitar. I was therefore able to perform on guitar a solo version of voice and piano similar to the lennon demo I had.
the first time I performed the song live was in New Haven Connecticut on november 18, 1995 the night before it was unveiled on ABC.
I performed it three more times during the tour, twice in New York and once in Chicago. the version on the record is the best performance which was on November 25, 1995 at the Long Acre theater in New York City. during the song's chorus the audience breaks into nervous laughter. I suppose they think I've forgotten the words, but on john's demo he hasn't written those words. he sings "do do do do do" just as I do.
that moment when the audience titters is one of my favorite memories of playing live.
Nude Wrestling With A Christmas Tree. my plan all along had been to create a third and final music concrete piece by combining the first two pieces. since the first piece is all percussion, the second all tonal, they overlap beautifully.
it took 43 days to finish the record, including mixing.
BELEWPRINTS was released in 1998.