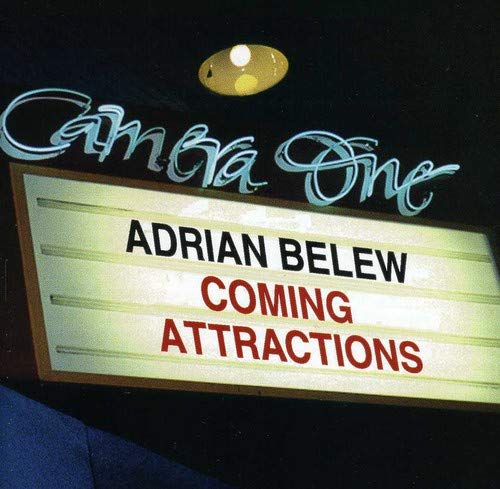 coming attractions
release date: 2000
Inner Man
Predator Feast
117 Valley Drive
Inner Revolution
Time Waits
I Know What I Know and That Is All I Know and I Know It
People (Adrian Belew, Bill Bruford, Robert Fripp, Trey Gunn, Tony Levin
No Such Guitar
Bird In A Box
House Cards
The Man in the Moon
Animal Kingdom
trivia points
there were several projects I was hoping would come to fruition when I made Coming Attractions (i.e. the title) and though my intentions were good, life itself got in the way. the truth is, by running two careers at once* (king crimson and a solo career) both of which require touring the world, a constant output of new material, and the recording thereof, I sometimes fail to meet my objectives. still, it's a record I'm very happy with and proud of. (but I should've chosen a different title).
the liner notes give a good account of the material starting with the mention of a "New Belew" record which would feature looping. that material ultimately became Side One, Side Two, and Side Three.
Inner Man could have worked well on Side One, especially with its power trio approach. as the liner notes say, "the drums are samples of items from Mr. Music Head (japanese fans, toy ray guns, the sound of a frog) played on the VDrums." in particular I like the gritty "hendrix-esque" guitar.
speaking of hair-raising guitar, Predator Feast features one of my favorite solos. it sounds backwards (it isn't) and at times resembles a roaring elephant (no elephants were involved) and eventually ends with what sounds like a tape slowing down, but all of it was done with a program I wrote with my beloved Johnson amp which allowed me to manipulate the speed of the notes with an expression pedal. the roaring elephant occurs throughout. the main melodic guitar was run through a harmonizer. the bold bass pops in and out at random. there's also a distorted tape of a baby talking, the sounds of traffic, an army marching, and some kind of machine running which eventually comes to a stop at the end. all of this over top of a distorted tom tom pattern. yikes!
117 Valley Drive was always going to be part of The Bears Car Caught Fire which came out the following year (2001) but I couldn't contain my excitement; I loved what the bears had done. for me the song exemplifies the joy of being a teenager in a band (the Denems) and playing music we loved (the Beatles). it also features one of my favorite Rob Fetters moments: his perfect slide guitar solo. george would have been proud
both Inner Revolution and Time Waits are live recordings from my one-man acoustic show in Argentina, october 6, 1997.
the second of 3 songs featuring the wisdom of the Prophet Omega, I Know What I Know And That Is All I Know And I Know It covers one of his impromptu radio ads about the Shipp Moving Company. I dearly love the prophets soulful voice. the music is a remake of the music from I Am What I Am, this time with a plucked cello bass, simple drumming with an added japanese fan part, and a clean blues guitar with a bit of delay. the original tape of the prophet given to me by Al Kooper only contained about 40 minutes-worth of the prophet. eventually I used almost all of it. "you may call them at 242-5381, that's 243-5381….2 4 2! 5381."
this version of People was recorded as a demo in the early 90's when I still lived in williams bay, wis. (imagine the picture inside Here). it's a simple rendering with rhythm guitar with synth horns, more cello bass, ayotte drums, a nice melodic soloing guitar and vocals. later when we needed more material for Thrak I offered this song. no one in king crimson heard the demo, so they had no pre-conceived notions.
from the liner notes: "when asked to contribute one track to Guitar Speak III my initial response was to record a drum track, then to overdub a blast of guitar sounds in various styles to be sorted through later. on the track sheet dated january 14, 1988 someone named it No Such Guitar. before I was able to add bass or anything else the idea was abandoned in favor of an existing piece Still Life With Dobro. this is the 1988 piece, still
unadorned.
both Bird In A Box and House Of Cards are stripped-down remixed versions I made for Dust. there was so much information in both those songs they were easy candidates for remixes. almost like new songs. House Of Cards becomes more focused on vocals and piano. in the fade out ending we threw in the kitchen sink including a recording made a few days earlier of a flock of canadian geese flying over the studio heading south for the winter. this version of Bird In A Box has a different linear arrangement in which all of the burning guitar solos are put in a row at the end, but it still features the nonsensical run-on lyrics such as "every dog has his Dayton Ohio Hitler."
here are part of the liner notes for this version of The Man In The Moon:
"sometimes a melody will linger in the back of your mind a long time before making itself known. we found a rehearsal tape from 1979 in which I'm playing a simple classical guitar line while Christie Bley adds a single repetitive piano note and Clif Mayhew plays fretless bass. there was no vocal or melody (except in my head). only upon hearing this tape 19 years later did I realize the song I was trying to work out was The Man In The Moon, finished in 1981."
Animal Kingdom was my attempt to create a musical "aural landscape." all those different rhythms which sound similar to marimba or african slit drums were produced on guitar using a Roland GR-1 guitar synth. the rhythms were made depending on how I played or what I played in conjunction with a "hold" pedal which allowed me to hold certain patterns. it was a unique and difficult undertaking. even more difficult was learning how to play drums to this 12-minute track. I learned it and recorded it section by section. sometimes I used sticks, other times rods or mallets. I left the snare off throughout. then came the addition of animal sounds of all kinds made with guitar of course. I was very pleased with my drumming effort, not so much with some of the animal sounds. maybe I will return to it someday. anyway, the idea for anyone with a good imagination was to be able "visualize" yourself on the african savanna watching the drama of animals' lives play out in the high grass.
this is another record of mine that was pretty much overlooked at the time. if you haven't checked it out in a while it may surprise you
The Bears (Rob Fetters, Bob Nyswonger, Chris Arduser) played on 117 Valley Drive,
Christy Bley and Clif Mayhugh played on The Man In The Moon. otherwise I played and sang everything on the record.
Coming Attractions was released february 8, 2000. three months later The ConstruKction Of Light was released on may 3, 2000. The Bears Car Caught Fire came out early 2001.
*and at the same time writing material for Car Caught Fire by The Bears.