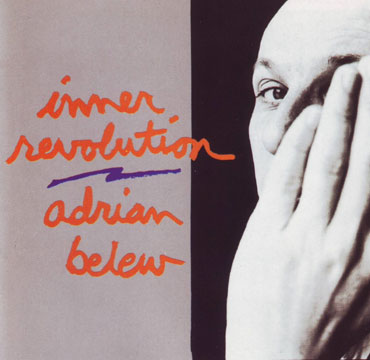 inner revolution
release date: 1992
"Inner Revolution"
"This Is What I Believe In"
"Standing In The Shadow"
"Big Blue Sun"
"Only A Dream"
"Birds"
"I'd Rather Be Right Here"
"The War In The Gulf Between Us"
"I Walk Alone"
"Everything"
"Heaven's Bed"
"Member Of The Tribe"
trivia points
all of this material was written right after the year-long bowie S+V tour finished. I wrote it in a small cabin I rented on Lake Delevan, Wisconsin where I lived alone for the first time in 17 years.
my girlfriend Martha told me a social theory she had about changing your life through what she called an "inner revolution". so I wrote a song about it.
the guitar parts for This Is What I Believe In rely on a Roland GR-50 guitar synthe. with it I could pitch each string to have a different harmony note mixed with the original note of each string. thereby creating some very unique chords and running figures reminiscent of the style robert fripp and I played in the 80's crimson.
there are 3 songs written on piano: Big Blue Sun, Birds, and I Walk Alone. the rest were written on guitar. stan hertzman suggested I should bring in a "sparing partner" so I asked Chris Arduser, drummer for the Bears, to join me for a couple of days in the studio. that way I had drums with guitar which helped me sort out my more "rocking" material. chris played drums on This Is What I Believe In (in 7/8), Standing In The Shadow, Heaven's Bed, and Member Of The Tribe (which included a hubcap in place of a hi-hat). Mike Barnett returned on upright string bass for This Is What I Believe In.
my friend Al Jewer wrote charts for the string arrangement in Big Blue Sun. this was done by me singing or playing what I wanted each instrument to do, and with al making suggestions and writing it out properly. he knew 4 school teachers who sometimes played together. they became our string quartet.
otherwise I played everything else. while on tour with david I purchased a new kit of Ayotte drums. the first song I used them on was Only A Dream. I have used those drums ever since. they have been sitting in the exact same place in StudioBelew for 27 years!
it's curious the singular moments you remember from the time you're making a record. the first time my young daughter Iris listened to Birds, when it got to the bridge "dear God I know some time I'm gonna die", she burst out crying! she said she didn't want me to die.
the subject matter for I'd Rather Be Right Here is self-explanatory. I had just come home from a year of playing 108 stadium shows in 27 countries. and I had a horrendous fear of flying! (which I overcame 12 years later.)
all country artists must have a song about divorce. The War In The Gulf Between Us is mine. yes, I know I'm not a country artist, but I always hoped one of them would cover it!
I wrote the melody and words to I Walk Alone in my bus bunk while traveling on the S*V tour of europe. having no instrument available I wrote down the words and memorized the melody.
sadly in retrospect this became the last solo record I did with my recording engineer/best friend of 15 years, Rich Denhart. we were inseparable all that time even before the Gaga period. we accomplished so much. rich advised me to create my first home studio (in Williams Bay, Wi.)
about the picture above, there was a single of Standing In The Shadow (to crickets chirping). "I said you turn me on, but you forgot to turn me off!"
my third and final record for atlantic, it was released in february 1992, two years after Young Lions.
cover design/artwork for Inner Revolution:
from the beginning I have always been involved in the cover design and artwork of my records. it's something I love doing. for some of the early records we used a blanket company name: sotto voce' which meant me and my manager stan hertzman.
from inner revolution forward I began doing ink and pencil drawings of my ideas. they are very specific. and now you'll see why I rarely draw or paint human faces and stick to abstracts instead. but for these informational drawings I did what I could.
one black sketchbook I have has all the designs for Inner Revolution, Here, Desire Caught By The Tail, and Belewprints.
this first design ends up very much like the finished record. that's because I had selected the photos by Michael Wilson I would use and was able to reference those for the drawings.
the drawings are in order of the way they appear on the cover, back cover, booklet, and CD. I hope you enjoy this separate part of the record-making process.