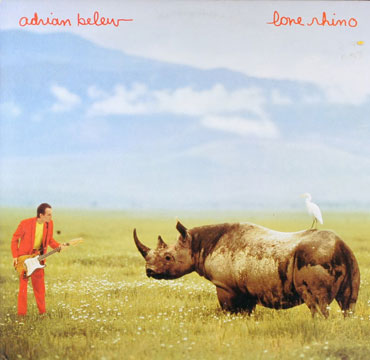 lone rhino
release date: 1982
"Big Electric Cat" – 4:54
"The Momur" – 3:44
"Stop It" – 2:51
"The Man In The Moon" – 3:50
"Twang Bar King" – 1:26
"Naive Guitar" – 4:04
trivia points
the band that made The Lone Rhino is *essentially the same band eno, david byrne, and jerry harrison saw the night they asked me to play on Remain In Light which I did the next day.
that same band *Gaga with bill janssen, christy bley, and rich denhart was also the band robert fripp heard me with before asking to form a band with him and bill bruford.
The Lone Rhino cover was shot by the legendary japanese photographer Mr. Sukita. he enlisted the most famous japanese wildlife photographer, Mr. Tanaka, for the shot of the rhino and egret which was perfect for the concept I had expressed. I was photographed in tokyo with sukita and air brushed into the picture.
I wrote the song The Lone Rhinoceros without an instrument while staying at david bowie's mansion in switzerland. it was late at night, I had no guitar, so I memorized it. two weeks later I worked it out on guitar.
seymour duncan made a fretless guitar out of a cheap fender musicmaster I had. the moment it arrived in the mail, we plugged it into rich denhart's 8-track recorder and I played what would become the guitar track for Big Electric Cat, the first track of my first solo record.
my *wife never smashed my favorite guitar (I only had one at the time) nor did she dance around on top of it.
members of the springfield illinois high school band were enlisted to play the 7/8 coda for Adidas In Heat.
the song Animal Grace was originally called Buy That Face and was written about david bowie.
my 4-year old daughter audie. played piano on The Final Rhino and also coined the word "momur" which meant anything that frightened her (monster).
The Lone Rhino was released 7 months after Discipline.
*the live band Gaga had rich denhart on bass. the Lone Rhino record had clif mayhugh, while rich was co-engineer. rich went on to be my recording engineer/sidekick for the next 15 years.
*Gaga was the opening act for fripp's band for 5 shows in the midwest.
*margaret flowers.