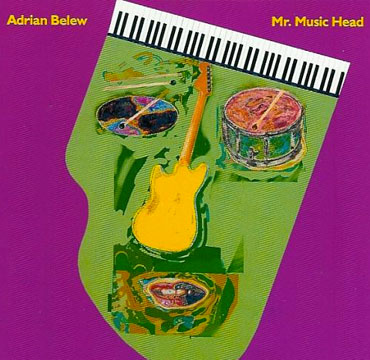 mr. music head
release date: 1989
"Oh Daddy" – 3:05
"House of Cards" – 3:44
"One of Those Days" – 3:21
"Coconuts" (Belew/Stan Hertzman) – 3:29
"Bad Days" – 3:06
"Peaceable Kingdom" – 3:36
"Hot Zoo" – 4:24
"Motor Bungalow" – 3:36
"Bumpity Bump" – 3:46
"Bird in a Box" – 3:16
"1967" – 5:23
"Cruelty to Animals" – 4:23
trivia points
on september 1, 1989 the single "Oh Daddy" reached its peak at #5 on Billboard's Modern Rock chart. the closest I ever came to a "hit" single.
as we were finishing recording Oh Daddy, unbeknownst to me an a&r person from Atlantic Records was listening in the control room. and that's how I got signed to a 3-record deal with atlantic. I wasn't even planning on including Oh Daddy on the record! I did it because my 11-year old daughter Audie wanted to try singing in the studio.
I had just moved into a different house* which came with an old baby grand piano. (picture 1). which is why so much of this material was piano driven. the first two piano songs I wrote were Bad Days and One Of Those Days. for days on end I did nothing but practice those songs on piano.
Billy Joel cited Mr. Music Head as his favorite record of that year. we've never met.
apart from the accident of Oh Daddy making it on the record I had a very focused vision of what sounds and instruments to use. for example, some of the tracks are built on bass piano lines (Motor Bungalow, Hot Zoo, Bumpity Bump). I had an 8-sound toy ray gun which I used often, especially for the exotic birds on Hot Zoo. for percussion I played different japanese fans (picture two). and I played them with a pencil (House Of Cards, Peaceable Kingdom, Bird In A Box). I mostly played an electric upright bass. log drum, backwards guitar, finger snaps, sound effects, and other toy sounds run throughout the record.
I defy anyone to play the guitar solos in Bird In A Box. it's such an unusual sound I'm sure I couldn't replicate it. the wordplay idea I had for the song requires one word or phrase to run into the next therefore mutating. it's the same technique I later used for: the world's my oyster/oyster soup/ soup kitchen/ kitchen floor/ floor wax/ wax museum.
1967 was written on a dobro (also in picture one) and as usual, it was tuned to DADDAD. I was working on 5 different songs ideas at the same time because they all used the dobro in D. I'd work on one for a while, then work on another. one day it occurred to me to combine all 5 songs and that became 1967.
a friend of mine Mike Barnett is an accomplished jazz bassist who played a big upright acoustic bass. I wanted 1967 to be all acoustic instruments and sounds so I asked him to play. he's the only player other than me on the record.
the studio Royal Recorders (later named Mr. Music Head) had a massive sound effects library which I loved. that accounts for most sounds in Cruelty To Animals.
my friend and manager Stan Hertzman took the photo on the back cover (picture one). he also hand-colorized it. so I never actually had a pair of yellow pajamas like those, but I sure wish I did!
the house was in Lake Geneva, Wisconsin. the piano is sitting in my living room now, 32 years later.
released april 28, 1989