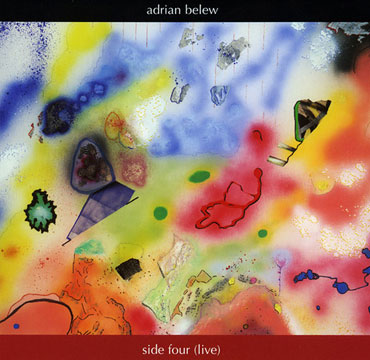 side four (live)
release date: 2007
Writing on the Wall
Dinosaur
Ampersand
Young Lions
Beat Box Guitar
Matchless Man
A Little Madness
Drive
Of Bow and Drum
Big Electric Cat
Acknowledgements
Three of a Perfect Pair
Thela Hun Ginjeet
trivia points
originally the plan was to make a live recording of the Eric and Julie Slick trio at the Southgate House in Newport, Ky. a tribute to my old stomping ground. the night before were 50 miles north in Dayton, Ohio playing at a small club called Canal Street. we decided to record the dayton show just to make sure the newport show went smoothly. as it turned out the dayton performance was better than the northern kentucky performance so that's one used here.
it was snowing like crazy that night in dayton. we came through the audience from the dressing room (which was a small kitchen in the back) and I leaped up on the stage. there was a clunky monitor cabinet hung from the ceiling and I banged my head right into it! it nearly knocked me out. I saw stars and birdies!! I reached up and felt blood on my head. I looked at eric and said, "let's go" and away we went!
Paul Green, the originator of the School Of Rock was the one who suggested I try eric and julie out as my new power trio. they were so young and that was a concern. I said at the time, to have them as my band would either make me look old and foolish or infuse me with youthfulness. they turned out to be so much fun I felt like a teenager again. we played for the joy it, like I did when I first started. the overriding feeling from this record is excitement and energy. the songs are all at a fast tempo and I loved it that way. eric and julie were on fire when we played!
rather than go through each track I'll just say this: the idea of a power trio was to give my songs a new life and to open it up for me to play a lot of guitar. Young Lions is the perfect example of the difference between the original record rendering and a "live power trio" treatment of the song. basically harder edged, higher energy, (usually) a lengthy guitar solo, and more notes from everyone. as the guitarist, the use of a looper makes a huge difference as it fills the hole in the rhythm left when I would solo.
I dropped the Gayne Ballet Suite intro for live performances of Madness and changed the title to A Little Madness a) to avoid paying more money to the estate of a dead composer, and b) more importantly because it was far more effective for live shows to jump right into the chaos.
Side Four was released november 16, 2007, 19 months after Side Three. it was recorded live at Canal Street Tavern in Dayton, Ohio on February 16, 2007.