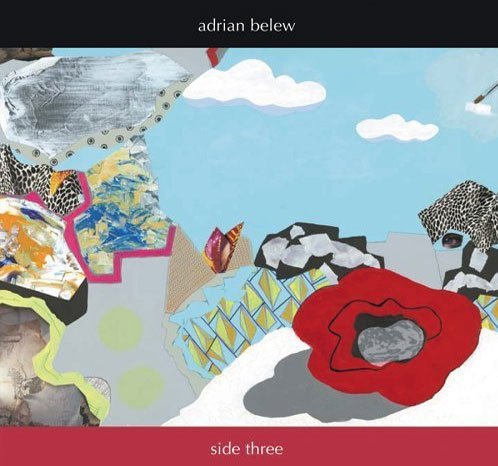 side three
release date: 2007
"Troubles" – 3:14
"Incompetence Indifference" – 5:02
"Water Turns to Wine" – 3:47
"Crunk" – 1:17
"Drive" – 3:27
"Cinemusic" – 1:37
"Whatever" – 3:18
"Men in Helicopters v4.0" – 3:07
"Beat Box Car" – 4:30
"Truth Is" – 1:34
"The Red Bull Rides a Boomerang Across the Blue Constellation" – 4:34
"&" – 3:18
trivia points
why 4 sides in the first place? following the release of Coming Attractions in february 2000, there are no more solo releases until Side One in 2005. you may have thought I was slacking off but I wasn't. during that time I did soooo many things including co-writing another bears record (Eureka) and 2 king crimson records, The ConstruKction Of Light (released may 3, 2000) and The Power To Believe (released march 4, 2003). crimson was in heavy touring mode during those days. I usually had no more than a few weeks or so at home in between traveling the world and all the other activities. but I kept writing solo songs as well and recording them bit by bit whenever I was home. eventually I realized I had 33 songs to be completed. I felt they would best be separated into 3 records. I kept each record around 30 minutes long because I consider them to be "high-information" kind of records. better to be enjoyed and understood in shorter doses.
Troubles, the third and final appearance of the Prophet Omega, provides us with insight into some of the physical ailments the prophet encountered with his brethren he preached to from his apartment on lamont drive in nashville. man, what choice phrases the prophet uses! "high blood, low blood, nature problems, pocketbook trouble!" I love it.
Troubles was the name of the dog martha's 101-year old grandmother had.
Troubles opens with the zeta electric upright bass, followed by fretless guitar soloing which carries on throughout parts of the song. next comes a rhythm loop from the ms-2000 as the prophet omega arrives. in the second verse the ms-2000 figure is doubled on a fender strat. I flipped the snare drum upside down to play brushes on the snare itself, along with bass drum and an occasional strike of a paiste gong cymbal. the gretsch 6120 nashville guitar makes an appearance around the "achin' in the bone, some of y'all achin' in the elbow" section. at the end the track slows down and gets lower and lower in pitch leaving the high octave sustainer guitar ringing out.
lyrically Incompetence Indifference is a tale of three common frustrations I have experienced.
the first story involves a smoking woman invading my poolside patch of sunlight. it happened exactly as stated and is true in every sense except for the name "hotel delite." the second tale is only partially true, but similar to the disastrous relationships we've had with different electricians over the years.
my wife Martha provided the deliciously vicious computer phone message at the end. the final frustration: the inability to actually speak to a human when there are problems.
musically Incompetence Indifference begins with a drum loop and a johnson amp program I wrote which could sound like computer glitches when using an expression pedal. over a three-chord riff I begin to tell the story. I continually alter the strat sounds. at the pre-chorus the bass comes in, a keyboard bass, and a clean chorused guitar appears. at the chorus a foxxtone guitar enters and treated drums begin along with a slightly fuzzy fender jazz bass. there is a guitar synth piano at end playing a simple melody during the computerized telephone message. then comes the "what kinda person would do you like that" guitar and vocal. so the song is peppered with different sounds through different sections.
the vocals come in three flavors: spoken word verses, my normal singing voice, and
a "basso profondo" who sings the "bad cuppa coffee" bits. I have loved changing my voice since I was a kid.
Water Turns To Wine. as a passionate devotee of history, I find the creation of myths, legends, misconceptions, and even old wives tales fascinating. over time something that started as water eventually through exaggerative re-telling becomes wine. that's what the title and lyric mean to me. I have seen it happen many times in my own short life.
after an opening sequence of events Water Turns To Wine begins with an ms-2000 program that sounds like a rhythm guitar with a flanger. the acoustic guitar chords shift forwards and backwards. there are spots when the electric sitar drones. the bass is the zeta electric upright. there is a curious high-end guitar loop throughout most of the song and chorale vocals in certain places. as well as the repetitive lead vocal line, "handed down through time, water turns to wine." light percussion and bongos hold down the rhythm until the old ludwig kit appears at very end.
Robert Fripp was staying at my house. we were probably writing material together. Mel Collins (staying in town for a few days with Ian Wallace) had come by to add 4 flute parts to Truth Is. later I asked robert if he would like to play on a track. he said yes and chose Truth Is to which he added, curiously, guitar synth flute parts! out of a thousand sounds he could have added it was the last thing I expected! he played 3 sections of flute soloing. I never said anything. but his guitar synth flute parts were gorgeous and I really wanted to use them. so at another time I moved them into Water Turns To Wine, adding a harmonizer in places. with a minimal amount of adjustment they fit beautifully.
the intro of Crunk includes ms-2000 and nord sounds, and a koto glissando. the raging electric guitar sound is a program I wrote for the johnson amp. there is a stomping electribe drum loop and some kind of bubbling bass synth sound. the rhythm is accented with a stabbing guitar chord through a Z. Vex Fuzz Factory (I love z. vex effects) I call the sound "velcro."
at the beginning of Drive you hear a vintage Ferrari running through its gear changes. vdrums and a guitar loop come next. having established the loop guitar the singing comes in. distorted singing. clean guitar with delay. the bass is the zeta fretless upright. atmospheric keyboard sounds come and go. a song about desperation.
Cinemusic more musique concrete, obviously a favorite form for me to work in. this piece is almost exclusively Nord Lead III.
the painting pictured here is called "Tango Zebra." I painted it in acrylic on august 5, 2002 and used it as the back cover for Side Three.
the funky Whatever brings the magical return of Les Claypool and Danny Carey on bass and drums for these next two songs. I wrote a johnson amp program which would capture a two-second loop of what I had just played whenever I activated the expression pedal and if I moved the pedal even slightly it would change the loop in crazy ways. I used it, for example, to create the loop guitar parts for Walk Around The World, Incompetence Indifference, and Asleep. I brought my guitar tracks and vocals to les's studio where les and danny added their parts. "sometimes or maybe never almost could be or might have possibly…whatever"
this is the fourth version of Men In Helicopters and it includes the third version (the string quartet and vocal version) as its basis. what I find interesting are the choices les and danny made as to what to add to it. danny chose an orchestral approach with tympani, chimes, and military-ish snare rolls. I'm a sucker for well-executed snare rudiments! les said he had always wanted to do a "McCartney" meaning the kind of bass part Paul was known for. interestingly that's exactly what Tony Levin said about the bass part he played in the chorus for Dig Me (But Don't Bury Me)! perfect choices, boys.
a door opens, there's a little piano tinkering, the door shuts and Beat Box Car begins. I felt Beat Box Guitar was a perfect vehicle for a second more stripped down version with the emphasis on improvisation. I kept the basics, and added more guitar. even the electric piano flourishes are guitar played through the ms-2000 keyboard. a wah wah solo? that's a rarity for me. all of which was to open another door for Mel Collins to wail on saxophone! I have always loved Mel's playing on the early crimson records and was thrilled when he agreed to come to studiobelew for a day. at the 4 minute mark yet another door opens and an entirely new character walks in. the nord lead III.
the poem-like lyric for Truth Is:
"faith is overrated,
cynicism is too
what is the truth?
hate is wasted
love is easily fooled,
what is the truth?
the truth is
I don't know"
the acoustic guitar for Truth Is a black Taylor 812. it was custom-made for Jon Bon Jovi and sent to me by accident. I keep it strung and tuned in the nashville tuning (the high strings of a 12-string). because that tuning has a g-string which is two octaves higher than normal, it's impossible to play this song correctly without a guitar strung in this manner. the vocal has been treated with a subtle flange. added to this are the flutes lines I asked mel collins to play. 4 flutes playing the same notes with a lovely "mel flourish" at the end.
The Red Bull Rides A Boomerang Across The Blue Constellation. I think the title says it all.  this is a different kind of musique concrete. there is a constant rhythm through most of it as well as a long half-speed backwards guitar loop. on top of that, many different atmospheric sounds and bits and pieces from songs from the 3 sides come and go. a kind of reminder of all you have heard by then.
& this is my original version of Ampersand in which I play everything. (I recorded all new guitars and vocals for the version with les and danny.) here I play double drumming tom tom parts, furious guitar with a dose of high-octave sustainer, fuzzy bass, and a different vocal approach with a pleasant-sounding delay on my voice. I wasn't unhappy with it but as with Beat Box Guitar I welcomed a second version, the one on Side One.
the photo was taken by Mark Colman. he treated it in a "Warhol tomato can" manner with 9 versions put together in a block. it was the back of the Side Three booklet. for this picture I used just one of the 9 and retouched it in Procreate.
Side Three was released april 8, 2006, one year after Side Two.