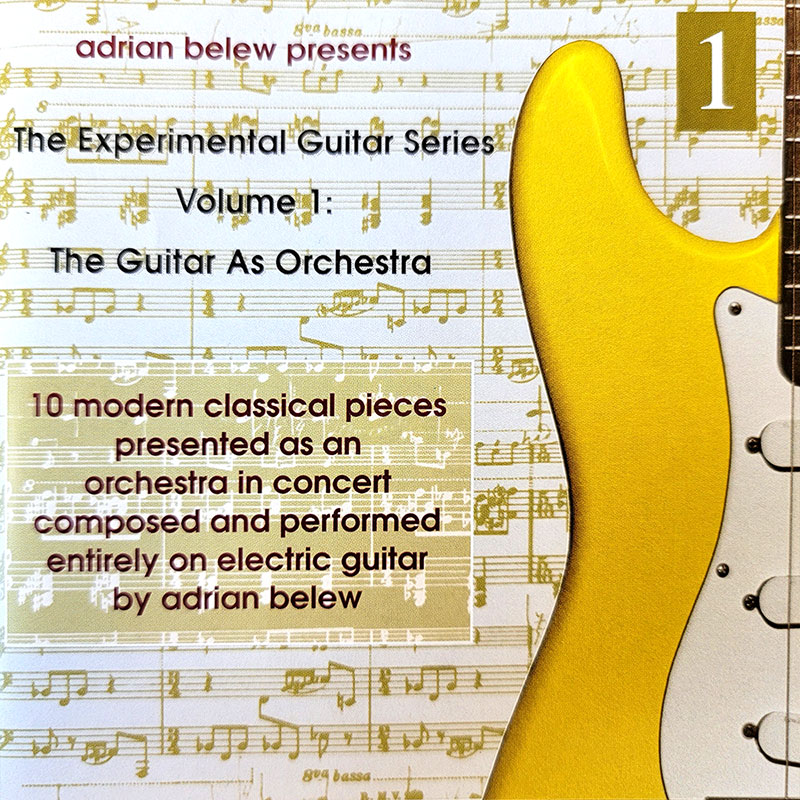 the experimental guitar series volume 1: guitar as orchestra
release date: 1995
"Score with No Film" – 3:24
"Portrait of the Guitarist as a Young Drum" – 7:23
"Piano Recital" – 1:43
"Laurence Harvey's Despair" – 2:49
"Piano Ballet" – 3:36
"Rings Around the Moon" – 3:56
"Seven E Flat Elephants Eating the Acacia of a C# Minor Forest" – 7:20
"If Only…" – 5:06
"Alfred Hitchcock's "Strangers on a Train" Starring Robert Walker" – 9:44
"Finale" – 5:42
trivia points
having released 4 pop-ish records in a row I was due to make a 180 degree turn. by this time I had worked extensively with 3 different guitar synth models (Roland gr-700, gr-50, and gr-1) and written a library of several hundred sounds. they weren't samples, they were programs created by long late night experimentation. I felt it was time for someone to build an orchestra using only guitar.
you can't imagine the first-time thrill of playing my guitar and having it sound like a piano. a whole new universe appeared!
having listened to this record for the first time in many years I was surprised at how ahead of its time it truly was. some of the better pieces would still make good film score material today. IMHO
there really isn't much in the way of trivia points since the whole record, be it tympani, harp, piano, or bassoon is guitar synthesizer. even the "audience applause" at the beginning was made with a guitar synth. so instead I will reprint here some of the liner notes from the record:
"as the name implies, this is modern classical music in which the guitar plays the role of the various components of an orchestra. every sound on the record is made with a guitar. part of the experimental nature of the music comes in designing those sounds rather than using samples of actual instruments. the compositions themselves were experiments.
certain pieces such as Portrait Of The Guitarist and Seven Elephants were first improvised, then edited into their most musical form, then learned, and finally orchestrated with additional sounds. other pieces such as Strangers On A Train and Laurence Harvey's Despair remain in their "live" improvised state. one guitar. this may not seem as experimental as playing the guitar with barbecue tongs but it is something which could not have been accomplished until recently."
there was supposed to be a second experimental guitar record but after recording the 12:13 title track Animal Kingdom (which ended up on Coming Attractions) I ran out of steam and shelved the idea. besides, as I soon learned, not many people care much for experimental guitar records.
Guitar As Orchestra was released in 1995 between the making of King Crimson's Vrooom and Thrak records on which I wrote songs like Dinosaur, One Time, People, Sex Sleep Eat Drink Dream, Cage, Inner Garden, and Walking On Air.