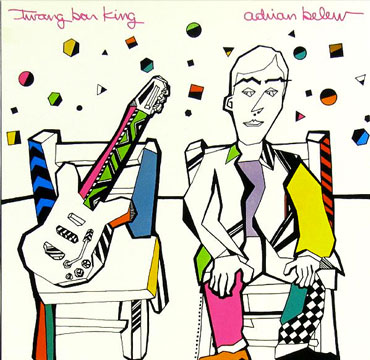 twang bar king
release date: 2006
"I'm Down" – 2:54
"I Wonder" – 4:39
"Life Without a Cage" – 3:20
"Sexy Rhino" – 0:37
"Twang Bar King" – 1:26
"Another Time" – 3:02
"The Rail Song" – 5:39
"Paint the Road" – 3:19
"She Is Not Dead" – 4:41
"Fish Head" – 4:30
"The Ideal Woman" – 4:08
"Ballet for a Blue Whale" – 4:44
trivia points
the record was recorded with a *mobile studio which was parked in the alley behind a rehearsal place I rented in downtown Champagne-Urbana, Illinois.
for my cover of the Beatles I'm Down, instead of john's piano solo I inserted a snippet from each song on the record.
for the song Twang Bar King I loosened the guitar strings until they were so floppy you could pull the g string off the side of the neck! it was difficult to play the notes in tune but it was perfect for the manic character of the song.
in one session I had the band play the melody from Man In The Moon, then reversed the tape and wrote a new song She Is Not Dead over top of it. two songs in one! Larrie Londin and I added double drumming as well which was a thrill for me.
for The Rail Song I wanted an authentic ground-shaking recording of a train going by. so rich denhart and I sat patiently in a car for a very long time late at night beside a dark train yard with his 8-track recorder armed and ready. it seemed like nothing would ever happen when suddenly two long trains passed each other slowly in the night. magical. chill factor for me. that song gets me very emotional.
for Ideal Woman my engineer Gary Platt and I took to the streets of downtown cincinnati. gary, brazen as ever, asked the question, "how would you describe the ideal women, what would she be like?" we had some fabulous answers. one guy coming out of a bank said, "mute". unfortunately a bus was going by and you couldn't hear him properly so we couldn't include that one. back in the studio I placed the comments where I wanted them in the track, making sure the ideal womans' dimensions got taller and taller (blonde 5'6, blonde 5'8, blonde 5'9) and of course she ended up "pretty with hairy legs!"
Martin Scorsese was set to use Paint The Road for his movie Wolf On Wall Street until he had to edit an hour out of the film and the editing included the song. still, knowing martin personally approves all the music in his movies I'm pleased he liked it. with bill jannsen's frenetic sax playing I can understand why.
the whale sounds for Ballet For A Blue Whale were made with a Roland GR 300 guitar synthesizer through a Roland DC-30 analog chorus delay (which was a gift from david bowie). I controlled the pitches with an expression pedal.
my lifelong friend Mike Getz created the artwork. then we decided to have mike paint similar artwork on my two custom fender mustangs. I still own the one pictured above. the second one resides in a hard rock cafe; somewhere. sly mike placed a G for Getz in my ear on the cover and devised a code for the inner sleeve which quotes Man In The Moon. it says "be strong and true."
Twang Bar King came out after Beat and 6 months before Three Of A Perfect Pair. september 1983.
this band i.e. Bill Janssen, Christy Bley, Clif Mayhugh, Larrie Londin were the perfect vehicle for this material and a powerhouse on stage live. I wish it had lasted longer.
*the mobile studio was from the Full Sail Audio school in Orlando, Florida where gary platt taught for many years.