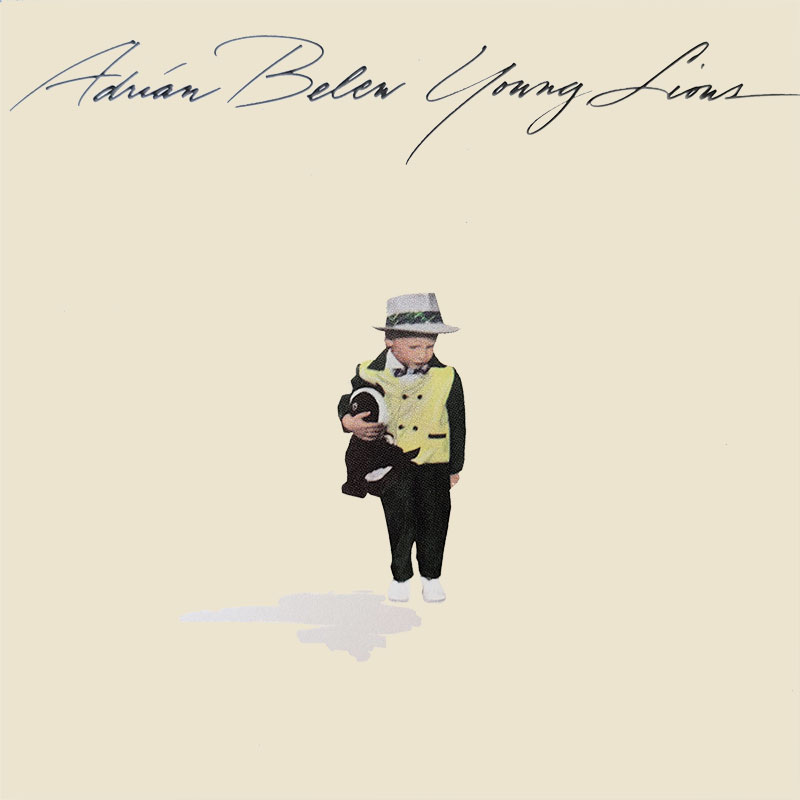 young lions
release date: 1998
Young Lions
Pretty Pink Rose
Heartbeat
Looking For A UFO
I Am What I Am
Nat Alone Amymore
Men In Helicopters
Small World
Phone Call From The Moon
Gunman
trivia points
concerning the song young lions: lyrically it's an easy picture to imagine. it's dusk. the sky is fluorescent. there's a bonfire, strange people around it, their faces distorted by the fire, they look like picasso paintings. they shout and dance, encouraging an alluring exotic woman who's the center of attention. there's also a stranger, a man. his eyes riveted on her as she dances ever closer. the sounds grow fierce and the fire snarls as she tries to lure him to her. she pleads for him to be her young lion.
making music to match the picture is a bit more difficult. there had to be a certain kind of drumming. tribal, primitive drumming. I thought of a percussion ensemble I knew of from the Netherlands. Van Kampen. I loved their music. I asked them to send me something. it was a field recording with occasional shouts and it was perfect.
to create animals roaring in the background I used a large metal file scraping on the strings. I did the same in parts of I Am What I Am. in the studio sound library I found a recording that sounds like bedouin woman trilling their voices to further add atmosphere.
the single Pretty Pink Rose peaked at #24 on Billboard's Modern Rock chart.
it was david's very generous idea that since we would be touring together for a year he would do something on my record to help promote it. he sent me a demo of Pretty Pink Rose. it presented me with quite a dilemma at first because I didn't like the demo! (I never told him) but I liked the song, so I went about recording an entirely different version of it and thankfully he loved it!
david and I recorded the vocals with a stereo mic; him on one side, me on the other. it gave me chills. we started recording and while the intro began, in a dramatic voice david said into the mic, "she had tits like melons, it was love in the rain!" of course, it had to be left off the single.
the same evening we recorded the vocals for Pretty Pink Rose we also recorded david's vocals for Gunman. I had asked him to consider helping me finish the track. he sat in the studio control room with a legal yellow pad and in half an hour's time he wrote the lyrics. I was amazed! I still have the original of his lyrics. somewhere. it's another track where I doubt I could replicate the guitar playing.
we were doing the sound and vision world tour when we filmed the video for Pretty Pink Rose. we filmed it on a day off in germany in an old abandoned building with the windows broken out. and it was freezing!
completing the record ran right along with preparing all the material for Sound and Vision tour (I was the music director) and the beginning of the rehearsals for sound and vision so there was a rush to the finish line. that's why I did two cover songs: my own song Heartbeat, and Roy Orbison's Not Alone Anymore. also, roy had just recently passed. it was my way to honor him.
I didn't have time to design the artwork. the cover was hurriedly designed by atlantic's art department. it's a picture of me at age 5 on my way to sunday school. I'm carrying a stuffed animal but I'm not sure what it was. a duck? knowing my mother's sense of humor, it may have been a skunk.
a personal favorite of mine is Looking For A U.F.O. it was my attempt at a little motown so I added vibraphone like they often used.
my dear friend Al Kooper, who collects oddball recordings, gave me a 47-minute tape of the Prophet Omega preaching on the radio out of his apartment in nashville. I loved his voice and his delivery. for I Am What I Am we edited certain lines from the tape and placed them rhythmically in the song, just as I had done with Ideal Woman. over time I made 3 songs with the Prophets voice: I Know What I Know on Coming Attractions and Troubles on Side Three.
the bass sound for I am What I Am is a guitar played through a fretless bass sample. I used it on Small World and Looking For A U.F.O as well.
Men In Helicopters reached #17 on the Billboard Modern Rock chart despite having no video. in the MTV era a video was as essential as social media is today. it's a shame because it's a song which I felt could have been a hit. I still think so.
apart from Van Kampen's drumming on the song Young Lions I played everything on this record.
picture one is from the CD-MAXI SINGLE which included Pretty Pink Rose, Neptune Pool, Shoe Salesman, and the LP version of Oh Daddy. and here's a true piece of trivia: atlantic records also released a single of Not Alone Anymore, something even I had forgotten (the single went nowhere). pictures two & three are from that single.
Young Lions was released may 1990, 13 months after Mr. Music Head.